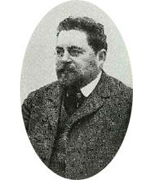 Gaston Leroux (1868-1927) was a French journalist and author of "Le Fantome de l'Opera." He worked as a court reporter and drama critic. Leroux also wrote mystery, adventure and horror fiction, inspired by similar stories by Edgar Allen Poe, Arthur Conan Doyle and Stendhal. l. Leroux died at the age of 59 in Nice, France.
Ad blocker interference detected!
Wikia is a free-to-use site that makes money from advertising. We have a modified experience for viewers using ad blockers

Wikia is not accessible if you've made further modifications. Remove the custom ad blocker rule(s) and the page will load as expected.