The Phantom of the Opera (2004 film)
Talk

0
61pages on
this wiki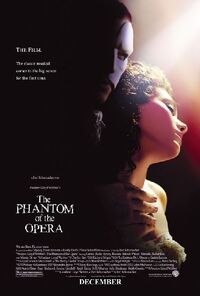 The Phantom of the Opera is a 2004 film adaptation of Andrew Lloyd Webber and Charles Hart's internationally successful 1986 stage musical, which is based on the novel of the same name by Gaston Leroux.  The film was directed by Joel Schumacher and written by Schumacher and Webber. 
Gerard Butler ... The Phantom
Emmy Rossum ... Christine Daaé
Patrick Wilson ... Raoul de Chagny
Miranda Richardson ... Madame Giry
Jennifer Ellison ... Meg Giry
Minnie Driver ... Carlotta Giudicelli
Victor McGuire ... Ubaldo Piangi
Ciarán Hinds ... Richard Firmin
Simon Callow ... Gilles André
Murray Melvin ... Reyer
James Fleet ... Lefevre
Kevin McNally ... Joseph Buquet
Imogen Bain...Carlotta's Maid

Miles Western...Carlotta's Wigmaker Judith Paris...Carlotta's Seamstress
The film begins at the Opera Populaire in Paris, 1919, where an auction is being held. It is shot in black and white and evokes a feeling of decay. The Vicomte de Chagney, Raoul, an elderly man, buys a music box in the shape of a monkey wearing Persian robes and playing the cymbals which was found in the vaults of the theater. During the auction, he see a familar face, Madame Giry (Miranda Richardson), a woman he has not seen for many years. Then Lot 666 is shown, a chandelier in pieces which connects to the strange affair of The Phantom of the Opera.
As the chandelier is revealed with its new electric lights, the overture begins. As the chandlier slowly rises above the stalls, the opera house is restored in full color to its original full grandeur in 1870. We see the cast including Christine Daaé (Emmy Rosum), Carlotta Giudicelli (Minnie Driver) and Ubaldo Piangi (Victor McGuire) practicing Hannibal by Chalemau, when the owner of the theater comes in and announces that his rumors of moving are true, and he plans to move to Australia and introduces the new owners, Gilles Andre (Simon Callow) and Richard Firmin (Ciarán Hinds).
As the managers watch the practice (mainly the ballet dancers), Carlotta throws a fit because they are not paying attention to her. At first, she plans to leave so they suck up to her by listening to her sing a song from tonight's act. During Carlotta's song, a backdrop falls on her and she leaves refusing to sing at the gala on that night when they were to announce that Raoul, (Patrick Wilson) will be their patron. The managers are warned of the "Opera Ghost" by Madame Giry (Miranda Richardson) as long as they keep Box Five empty for his use and pay his monthly salary of at least twenty-thousand francs.  
When there is no understudy for Carlotta, Madame Giry suggests Christine should sing for the gala because she has been taking lessons from a great teacher. She sings ("Think Of Me") to a full house and Raoul, her childhood sweetheart recognizes her. After the performance, Christine goes to the chapel to light a candle for her deceased father, Gustave Daae. She tells Meg that when her father lay dying, she would be protected from an Angel of Music ("Angel of Music"). As Christine returnes to her dressing room, Madame Giry gives her a single rose with a black ribbon on it. Raoul arrives and they talk of the fun times they had as children ("Little Lotte"). When Raoul suggests taking her out for supper, Christine objects to it because of the Angel of Music forbids it, but he ignores it and leaves to get his carriage ready for them.  
The Phantom (Gerard Butler) appears in the mirror ("The Mirror"). He seduces her by his music and slowly leads her down to his lair under the opera house ("The Phantom of the Opera"). The Phantom expresses his love to Christine with his voice and music to her. When he shows her a mannequin that looks exactly like her, but in a wedding dress and veil, she faints and the Phantom carries her to his bed to let her sleep. As the ballet dancers prepare to turn in, Joseph Buquet (Kevin McNally), one of the stage hands gloats of the Phantom and his magical lasso, despite the warnings of Madame Giry.
As Christine awakens from the music box, she sneaks up to the Phantom and  takes off his mask and sees the facial disfigurement he was hiding (we don't see it until later). The Phantom is furious of what she has done ("I Remember/Stranger Than You Dreamt It"). As Christine returns his mask, he decides to return her before those "fools" who run "his opera house" will be missing her. 
Meanwhile, Andre and Firmin are trying to convince Carlotta that they do need her ("Notes/Prima Donna") and that they will not listen to the notes signed "O.G.", telling them that Christine should replace Carlotta permanently. Despite the notes, Carlotta plays the singing role while Christine plays the silent role in Il Muto.  Everything goes alright at first until the Phantom's voice echos the Opera House that his demands were not met, so he makes Carlotta lose her voice by spiking her throat spray and then hanging Joseph Bouqet. Christine escapes with Raoul to the rooftop ("All I Ask Of You"), afraid that the Phantom might see them. As she explains to Raoul about the Phantom, Raoul comforts her and confesses his love to her as they kiss.  They both do not realize that the Phantom has heard everything and vows revenge. 
At the Masquerade ball ("Masquerade"), three months of no appearances from the Phantom has everyone relieved. During that time, Raoul has proposed to Christine but keeps the engagement a secret as she wears the ring around her neck. As the Masquerade is in full swing, the Phantom appears as Red Death ("Why So Silent") while giving his new opera, Don Juan, to the managers and gives specific instructions on performing it. When the Phantom approaches Christine and sees her ring, he takes it and leaves, with Raoul behind him. 
Raoul is unable to find the Phantom but instead finds Madame Giry. Raoul knows that Madame Giry knows more than she thinks so he pleads her for the everyone's sake. She tells him how the Phantom, once a sideshow freak from a traveling circus, came to the opera house with her help. Raoul hears Christine go to the graveyard to consult her dead father, Gustave Daae ("Wishing You Were Somehow Here Again"), not knowing that the Phantom was pretending to be her carriage driver. Raoul sees the carriage leave and rides there to stop Christine from getting taken. The Phantom and Raoul have a sword fight and in the end, the Phantom drops his sword and Raoul kicks it away. He almost kills him but Christine begs him not to ("No! Not like this.").  As Raoul and Christine ride off, the Phantom declares war on them both.
Raoul decides that the best way to capture the Phantom once and for all is to perform his work and use Christine as bait, knowing that if she sings he will definitely be there. Armed guards surround the opera house as Don Juan is being performed, the Phantom kills Piangi to take his part and be the love interest of Christine's character ("Point of No Return"). While on stage, Christine removes the Phantom's mask and wig, revealing his disfigured face to a shocked and frightened audience. As the armed guards corner him, he cuts the main rope supporting the massive chandelier, which crashes into the stalls as he flees with Christine. As the opera house starts to burn and the managers realize they are ruined, Raoul has Madame Giry lead him to the Phantom's lair.
With a mob coming after him, the Phantom takes Christine back to his lair ("Down Once More"), where he makes her wear the wedding dress and gives her the engagement ring he took from her to wear.  As Raoul arrives at the lair to save her, the Phantom ties a noose on him.  The Phantom tells Christine to either have Raoul hung and she can go away free, or free Raoul and live with the Phantom forever. She kisses the Phantom and gives back the engagement ring as he lets her go with Raoul. As the Phantom watches them leave by boat, he escapes through his tunnels away from those tracking him down for murder.
As Meg arrives in his lair, she finds his mask next to his music box and then we watch the music box slowly fade to black and white as we are sent back to 1919. The end scene shows the old Vicomte placing the music box on Christine's grave (which said that she was a great wife and mother).  Next to it he notices a single red rose with a black ribbon and the ring (Raoul and Christine's original engagement ring, that Christina earlier gave) on it.